User Experience (UX), a term coined by Don Norman, founder of Nielsen Norman Group, has been around for a very long time and will continue to evolve. A lot of companies are just starting the build-out of a UX department. The key to this is structuring it in a proper way with the key components and clear definition of what each piece is all about.
The fun thing about UX is that, like a lot of things, it is always evolving. Like many neighborhoods, venues or even buildings, they are containers. They hold pieces that make up that establishment. I think of UX as a village and the disciplines as the people.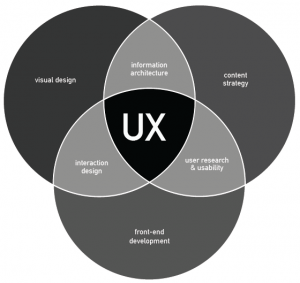 User Research
This can be as simple or as detailed as needed. It simply allows for understanding of the actual user of a product, application or system through various observations. This provides data needed to make sound design decisions. Data is king.
Usability
This is the measure of a user's experience while interacting with a product or application.
Content Strategy
Content strategy is the creation, planning, delivery and oversight of useful, usable content. Many think of content as just the words. However content strategy is everything from images, video, text and photos to diagrams and graphics.
Information Architecture
This is the identification and organization of information within a product to make for a purposeful and meaningful structure.
Interaction Design
The design of interactive behaviors between a product and user.
Visual Design
The visual qualities or "look and feel" of a product or application to appeal in an aesthetically pleasing way.
Front-End Development
This "makes it work" and should be in sync with the Interaction Design that has already been established.