What is Pay per click advertising?
Pay Per Click Advertising is a great way to leverage getting your name out there right now. This is a risky technique because you can burn through your money very fast while getting a ton of visits but end up with nothing to show it. This will provide you with a high-level view of pay per click advertising as well as some general strategies.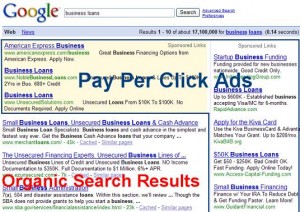 Pay per click marketing is pretty straight forward: Google and Bing allow you to buy listings in their search results. These listings appear along with the natural, non-paid search results. The ads are sold in an auction. You bid what you are willing to pay for a click on the ad. Once you are in the ads and someone clicks on your PPC listing, they are directed to your website, and you are charged the amount you bid. So imagine if you had bid .15 per click and you have the highest bid, you'll probably show up in the first line. If 100 people click on your PPC listing, then the search engine or PPC service will change you $15.00.
That sounds pretty great….
But PPC advertising can cost you a ton of money. It is very easy to get caught up in the bidding war over certain keywords and end up spending far more than what your potential return. Some companies will spend as much as they have to in order to ensure they are in the first spot. Also, bid inflation consistently raises the per-click cost for highly-searched phrases.
Pay per click advertising can generate traffic right away. If you spend enough you will have the top placement and potential customers will see you first. If people are searching for the keyword that you bid on and you have a well written ad then you will get clicks the moment the ad is activated.
LMB can help you engineer a successful pay per click advertising campaign. We focus more attention to conversions and less to clicks.
Call (708) 374-8796 or email us today for a free quote!